We wanted to apply the advantages of polytetrafluoroethylene (PTFE), which include low-friction, non-adhesiveness, heat-resistance, water/oil repellency, and antifouling properties, to engineering plastics and coating.
We achieved this ambition with Kitamura's own polytetrafluoroethylene (PTFE) additive powders. Our status as a leading manufacturer enables us to meet the expectations of our customers with reliable quality and a diverse lineup of products.
Excerpts of Kita-san's evolution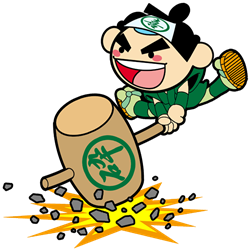 Here, we have posted "excerpts of Kita-san's evolution," which show various aspects of Kitamura's evolution. Please feel free to take a look at how we have evolved over the years.

Message from Masayuki Kitamura, President and Representative Director, Kitamura Limited
Our corporate philosophy
Company Infomation; Incorporated, Capital, History ...
Office Location